XF Fluidized Dryer
Description
Boiling drying machine, also called fluidized bed dryer, plays an important role in pharmaceutical, chemical, food and grain processing. XF fluidizing dryer is composed of air filter, fluidized bed, cyclone separator, bag-type dust collector, high-pressure centrifugal fan and console. The hot air enters into the fluidized bed through a valve plate, and the wet materials come into fluidization state. The materials extensively contact with the hot air and the heat transfer process is increased, so that the boiling drying machine can dry the materials in a short time. The materials enter into from one side of the bed, after fluidized drying for several seconds to minutes, they will automatically discharge from the other side of the bed. The exhaust gas is expelled from the top of the fluidized bed.
Application
XF fluidized bed dryer is appropriate for drying granular materials, such as crude drug, tablet granule, traditional Chinese dissolved medicines, plastic resin, citric acid, corn germ, feed and other powdery and particle materials. The optimum particle size ranges from 0.5 mm to 3 mm.
Features
1.XF boiling drying machine can implement batch production or continuous operation. It also can realize automatic production.
2.Fast drying speed and low temperature can ensure the quality of the fluidized bed dryer. This drying machine meets the GMP standards.
3.Steam, electricity and hot air furnace can be used as the hot source.
4.XF boiling drying machine uses nitrogen instead of oxygen as the carrier, which can effectively prevent oxidation and retain protein component. It also can recover organic solvent and can be used for drying, cooling and granulating flammable and explosive materials.
Flow Chart of XF Fluidized Bed Dryer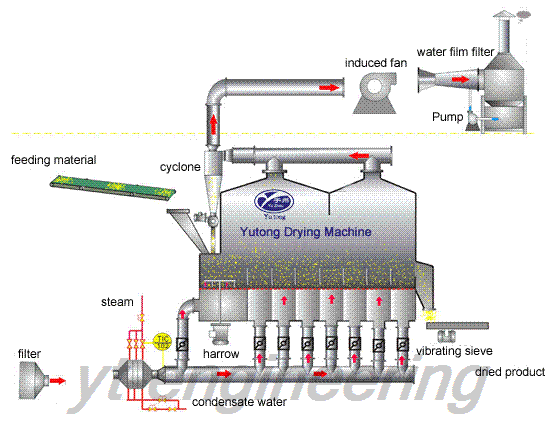 Parameters of Boiling Drying Machine
Model
Bed Area (m2)
Drying Capacity (H2O kg/h)
Fan Powder (kw)
Air Pressure (Pa)
Air Flow (m3/h)
Inlet Air Temperature (°C)
Outlet Air Temperature (°C)
Steam Consumption (kg/h)
Power Consumption (kw)
XF10A
0.25
10 to 15
5.5
4900
2300
60 to 200
40 to 80
50
30
XF10B
4
3800
2300
XF10A
0.5
20 to 25
7.5
5000
3100
100
60
XF10B
5.5
3500
3100
XF10A
1.0
30 to 45
15
6000
4200
150
90
XF10B
11
4700
4200
XF10A
2.0
50 to 80
22
7400
6000
250
150
XF10B
18.5
5900
6000
Notes
1.Drying capacity will be affected by material property, solid content and inlet and outlet temperature.
2.A refers to cyclone dust collector, B refers to built-in type.
We are a specialized fluidized bed dryer manufacturer and supplier in China. In addition to boiling drying machine, we supply spray dryer, belt drying machine, vacuum dryers, air stream dryers, mixing machine, granulating machine and grinding machine. We have obtained ISO9001 quality certificate and several national patents. Till now, fluidized bed dryers are exported to America, Britain, Germany, Cyprus, Turkey, Greece, Ukraine, Malaysia and India. If you need more information about boiling drying machines, please feel free to contact us.